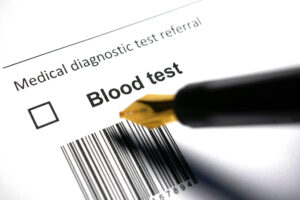 External collectors are individuals or businesses that provide phlebotomy (blood collection) and/or urine collection services from individuals for the purpose of laboratory testing in regional health authority laboratories.
As outside agents, the services provided by external collectors are not within the scope of employment of the regional health authority. This includes health-care professionals who are employees of a regional health authority and who are collecting  specimens as a business, or as a convenience for co-workers, friends or family outside of their regular work.
If you are an external collector, please read the information on this page, including the instructions and guidelines for proper collection of laboratory specimens.
Important information
External collector resources
A properly collected specimen is critical to quality test results. Correct 'order-of-draw' and mixing is critical for specimen integrity.
Please use the resources in the linkages below for instructions and guidelines for proper collection of laboratory specimens:
Labelling
After collection, specimen must be labelled at the point of collection with:
Patient's full name
Hospital card, MCP card or unit (chart) number
Date and time of collection
Collectors name or mnemonic
Source of specimen for microbiology, pathology, genetics, cytology, flow cytometry
Remember to properly label specimens to avoid delays or rejections.
What you need to know
Legal agreement
As an external collector, you must establish a legal agreement for specimen acceptance for the purpose of laboratory testing with the regional health authority, prior to offering collection services.
This legal agreement, known as 'Agreement for External Specimen Collectors Apr. 2023 (PDF)' ensures the integrity of specimens submitted for laboratory testing and appropriate collection and delivery standards.
External collectors must follow an application process to establish a legal agreement. Successful applicants are then issued a permit and are permitted to submit specimens for testing.
Application process
Before to submitting an application, please read the Agreement for External Specimen Collectors Apr. 2023 (PDF)
Download and complete the Application for External Collector Permit (Ch-2318, PDF) 
Submit the completed application form with all related documentation via email to collector.applications@easternhealth.ca.
Forms
Resources
Course: External Specimen Collector Education
To access this course, log into the LEARN system at learn.healthnl.ca, and:
Create a Non-Staff Account
RHA: select Eastern Health
External User Type: select Contractor
Course Search: type External Specimen Collector Education
Launch the course by clicking on the link.
Privacy and Confidentiality
Learn more about Privacy and confidentiality.
---
Why is a legal agreement necessary?
The Laboratory Medicine Program is responsible for the safe provision of diagnostic laboratory testing services. As such, a legal agreement between external specimen collectors and the health authority is necessary to ensure consistent and appropriate quality standards for specimen collection and delivery are met. A legal agreement ensures the quality of testing results and reduces the risk of testing and diagnostic errors.
Equipment and supplies
External collection agencies are responsible to independently purchase the equipment and supplies required for collection, handling and transportation of blood and urine specimens. The equipment and supplies used must meet the requirements of the specimen, test request and the laboratory performing the tests.
The equipment and supplies required include, but are not limited to:
blood supplies and collection tubes,
urine collection and preservation containers,
needles,
sharps containers,
specimen labels,
specimen racks, and
transport containers.